Are you, or someone you know in high school, college, or university, part of an environmental or eco-club, or have thought about starting one? Well, Ontario's Invading Species Awareness Program (ISAP) wants to help! We are looking for Ambassadors for our new volunteer program – the ISAP Ambassadors, or ISAPA for short!
In the past, the ISAP has received requests from students asking for volunteer opportunities. To meet this demand and help spread awareness on invasive species prevention in Ontario, we are looking to bring passionate and interested students together to participate in ecosystem conservation and stewardship, as the ISAP Ambassadors.
How it works – what you'll get from this:
The ISAPA program aims to support student lead initiatives and existing environmental clubs within schools or institutions to incorporate invasive species focused community activities and events. Students participating in this program will learn about invasive species and how they can help prevent their introduction and spread. This knowledge can then be used to work with their peers to coordinate small-scale events, such as invasive plant pulls, and/or efforts focused on the creation of a local community/school garden promoting the use of native plant species. Ambassadors will have access to a digital toolkit containing invasive species identification and management training for event preparation. ISAP staff will be available for support, and ambassadors will have access to equipment, and funding (if needed) for materials and resources required to implement planned events.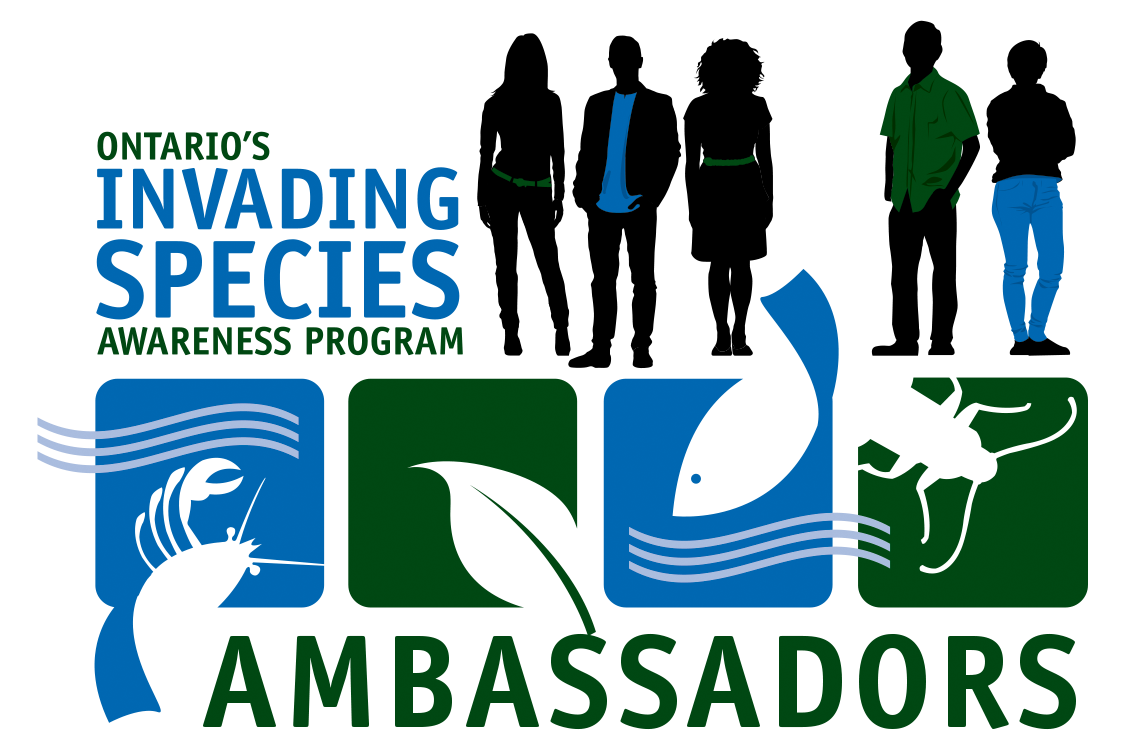 What will volunteers get?
Participating student Ambassadors will gain invasive species related knowledge in identification of some of Ontario's high-profile invaders, invasive species management strategies, and relevant policies related to invasive species control in Ontario. ISAP Ambassadors will gain hands-on experience with ecosystem restoration through the coordination of their own ISAPA events. Depending on the ISAPA event, secondary student Ambassadors may be eligible to acquire community involvement hours.
Throughout the ISAPA experience, we hope Ambassadors will have the opportunity to create their own valuable experiences that will improve their skill sets and invasive species knowledge base. As the program is targeted to secondary and post secondary students and young professionals, it is our goal to help bring relevant "boots on the ground" experience to the resumes of potential Ambassadors of the program.
Your commitment expectations:
As the ISAPA program is committed to providing a valuable opportunity to gain experience working in the environmental field, we ask that interested Ambassadors are in turn committed to the program. We understand that this will be outside your everyday school and work life schedules. ISAP Ambassadors will need to participate in ISAPA onboarding (virtually) with our ISAPA coordinator. Once Ambassador groups or individuals are established within your community or institution, event preparation will need to commence. Keeping in mind that our ISAPA coordinator is here to help, you will need to continually send event preparation updates or requests. You can do this via the ISAPA google classroom. Here is where you will find all things ISAPA related, like program updates, the digital toolkit with resources and materials, survey forms, and more. The google classroom will be your hub for all ISAPA information.
NOTE: Please be advised that most school board domains do not allow access to external google accounts. Therefore, please use a personal google account (yours or a guardian – ending in @gmail.com/ca) to access the ISAPA google classroom.
What next:
If this sounds like an opportunity you or someone you know might be interested in, please contact the ISAPA coordinator at emma_rupprecht@ofah.org
OFAH/OMNRF Invading Species Awareness Program. (2022). Programs – ISAP Ambassadors.
Retrieved from: www.invadingspecies.com