The spread of aquatic invasive species (AIS) via the recreational boating pathway is well documented. Over the last several years, the Invading Species Awareness Program (ISAP) has implemented various initiatives targeting recreational anglers and boaters to promote actions we can all take to help protect our aquatic environments. In 2015, our efforts have expanded to include a partnership with the tournament angling community to implement a tournament outreach project.
Due to the frequency at which competitive fishing tournament anglers travel between watersheds, their actions at the launch are extremely important in preventing the spread of AIS and preserving fishing opportunities across Ontario. The Clean Boats, Clean Tournaments project focuses on education and outreach to competitive tournament anglers with the overall goal of engaging anglers in best management practices to avoid the spread of AIS and diseases like Viral Hemorrhagic Septicemia (VHS).
Between the months of May-August, we will be travelling to tournament weigh-ins in the Kawartha Lakes and Lake Simcoe watershed to demonstrate the Clean, Drain, Dry message and engage tournament anglers in AIS awareness and free boat inspection/washing demonstrations.
Tournament Anglers: Here's How You Can Help!​
As a competitive tournament angler, you can act as an ambassador of invasive species prevention by setting an example for other recreational anglers at launches across the province. Help preserve Ontario's fisheries for future generations by following these best management practices: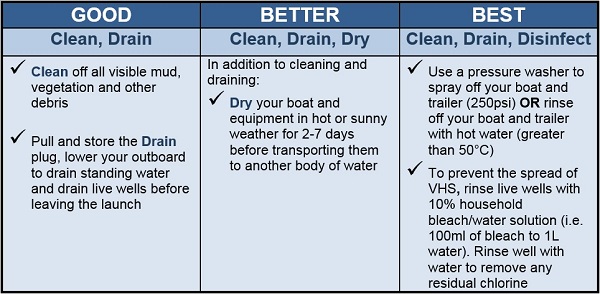 Helpful Tips:​
Be sure to CLEAN and DRAIN your boat each time you are leaving a waterbody at the bare minimum
Rinse off anchors and drift socks after each use
Inspect and clean your trolling motor as it can easily collect invasive animals and plant debris in shallow water
Although live bait is generally not permitted for tournament use, remember that it is illegal to dump your bait bucket contents into any waterbody in Ontario
If using live bait, buy locally
Report invaders to the toll-free Invasive Species Hotline at 1-800-563-7711 or report a sighting online at www.EDDMapS.org.
OFAH/OMNRF Invading Species Awareness Program. (2021). Programs – Clean Boats, Clean Tournaments.
Retrieved from: www.invadingspecies.com.